A laptop is today the basic tool for creative work. So what should a computer for creative applications look like and how does it differ from the machines we have at home?
Do you know which apps I use most often for work? Besides Word and a web browser, it's all kinds of graphics and video editing programs. I edit and develop photos for articles in ON1 Photo RAW, for simple processing of graphics found on the Internet I use free GIMP, while movies are made in the free version of DaVinci Resolve. I would in no way say that I am a graphic designer or, even less, an editor, but still many times i have felt the hard way how tedious creative work can be when the computer is unable to cope with the task.
And even for many creators, the computer is today the main working tool. Are you a photographer? You need to edit the photos. Do you record movies? You have to put them together on something. Do you design interiors? Without the right software, you can't go anywhere. Even pencil and paintbrush are increasingly giving way to graphics tablets.
But it was not without reason. On the contrary – Computers are such an important tool for creators because they open up whole new possibilities. From a purely practical point of view, they allow you to create works much faster and easier to share with the world – whether with clients or other enthusiasts. From an artistic point of view, however, they offer much wider possibilities for expression, removing the obstacles created by paper, pencil and often even the laws of physics themselves. Thanks to computers, many local artists have had the opportunity to discover their talent, and many others have been able to make it a career and a way of life.
I hope you will forgive me for this pathos and these truisms, but I think these are things that need to be emphasized. Computers are not just games, Excel and programming. Computers are also creative work, and that has its own rules and sets slightly different requirements for machines.
A laptop for creative work – what is it?
Well, let's imagine a laptop for creative work. What requirements must it meet? You know, it's a machine for work, and so it should be reliable and ergonomic. It should guarantee convenient access to the most important functions (and these may vary depending on the program we are working on), a rich set of ports and an efficient battery, in case we have to work outside the home.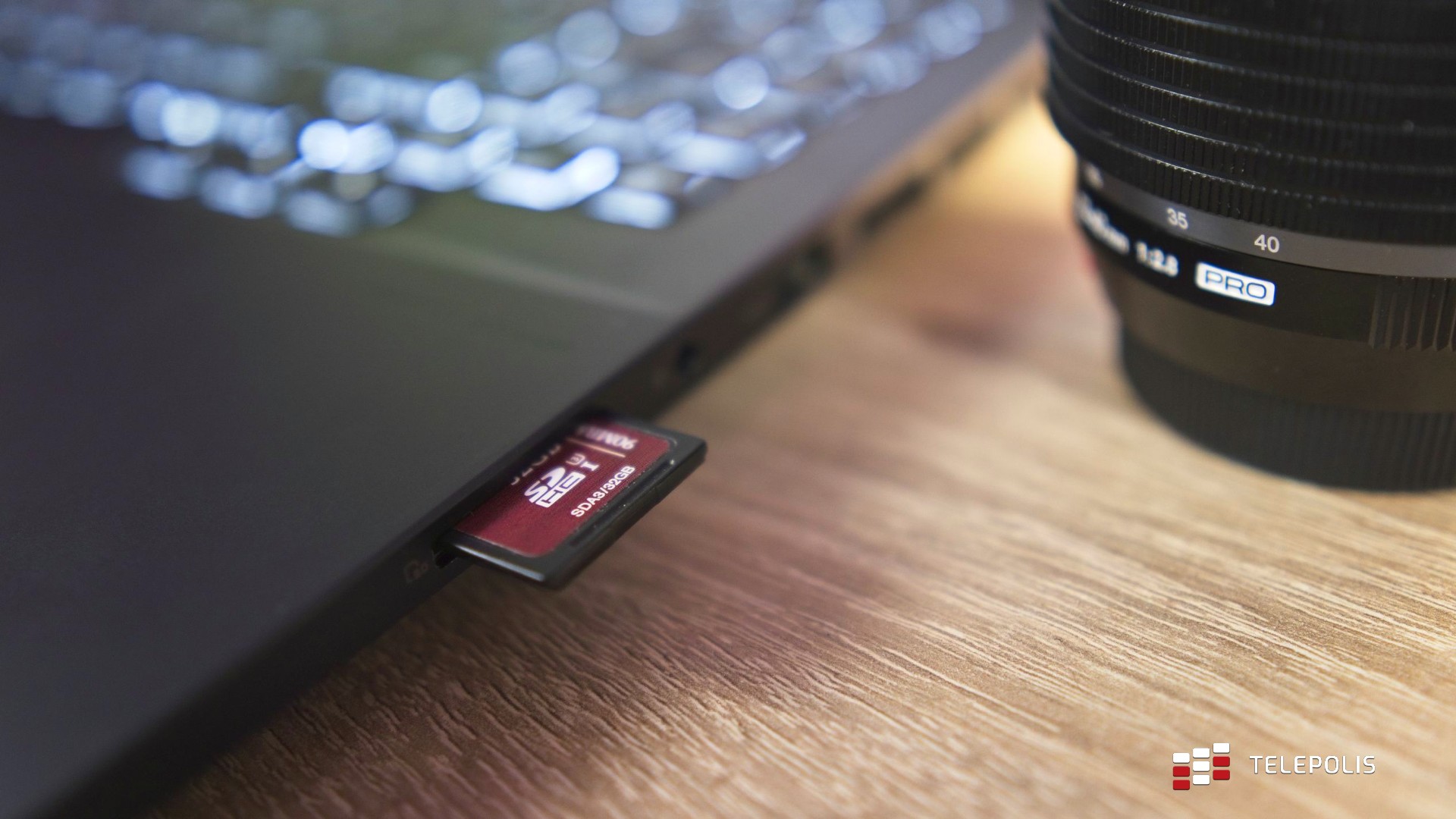 The quality of the built-in screen is also extremely important. If we want to edit some holiday photos on Facebook, it doesn't matter that what we see is different from what we see on friends' screens. It's different when we prepare the material to show the client or, horrifyingly, to print. Then there is no room for mistakes and only perfection counts.
And efficiency should not be forgotten. Because you know, it's not that a powerful graphics card and processor are just the realm of gaming. Effective components can mean the difference between exporting a batch of photos for an hour or ten minutes; between live previewing while editing video and a slideshow that hooks your entire computer.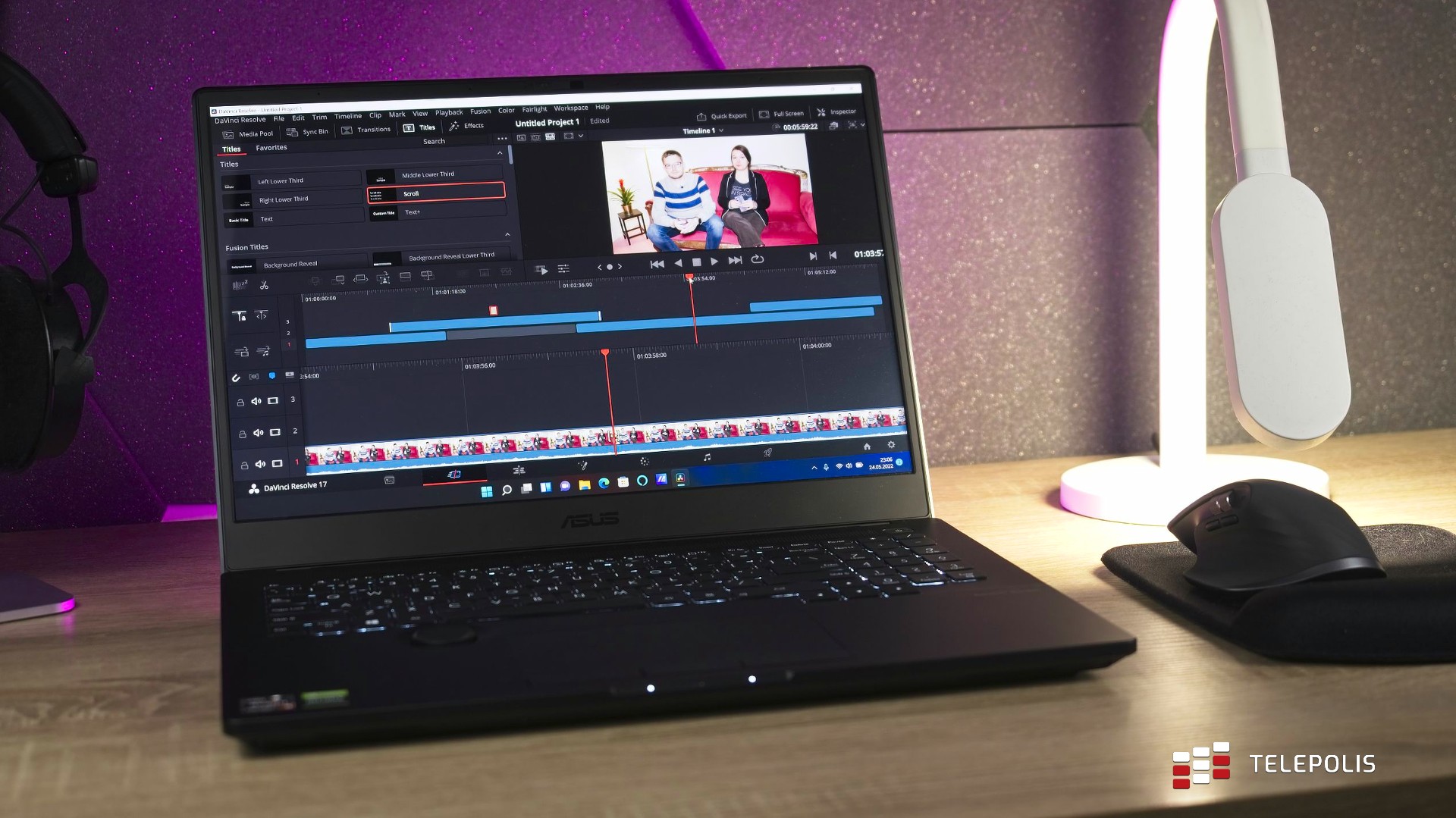 As you can see, finding a computer that meets all these conditions is not so easy. Professional machines are usually characterized by too low efficiency, while in the case of typical gaming equipment you can even forget about ergonomics or a decent screen.
ASUS ProArt Studiobook 16 OLED – every artist's dream
Fortunately, in recent years that has started to change, and the market will find more and more computers designed from the ground up with creative work in mind. This category includes, for example, laptops ASUS ProArt Studiobookwhich is in the company's offer Asus.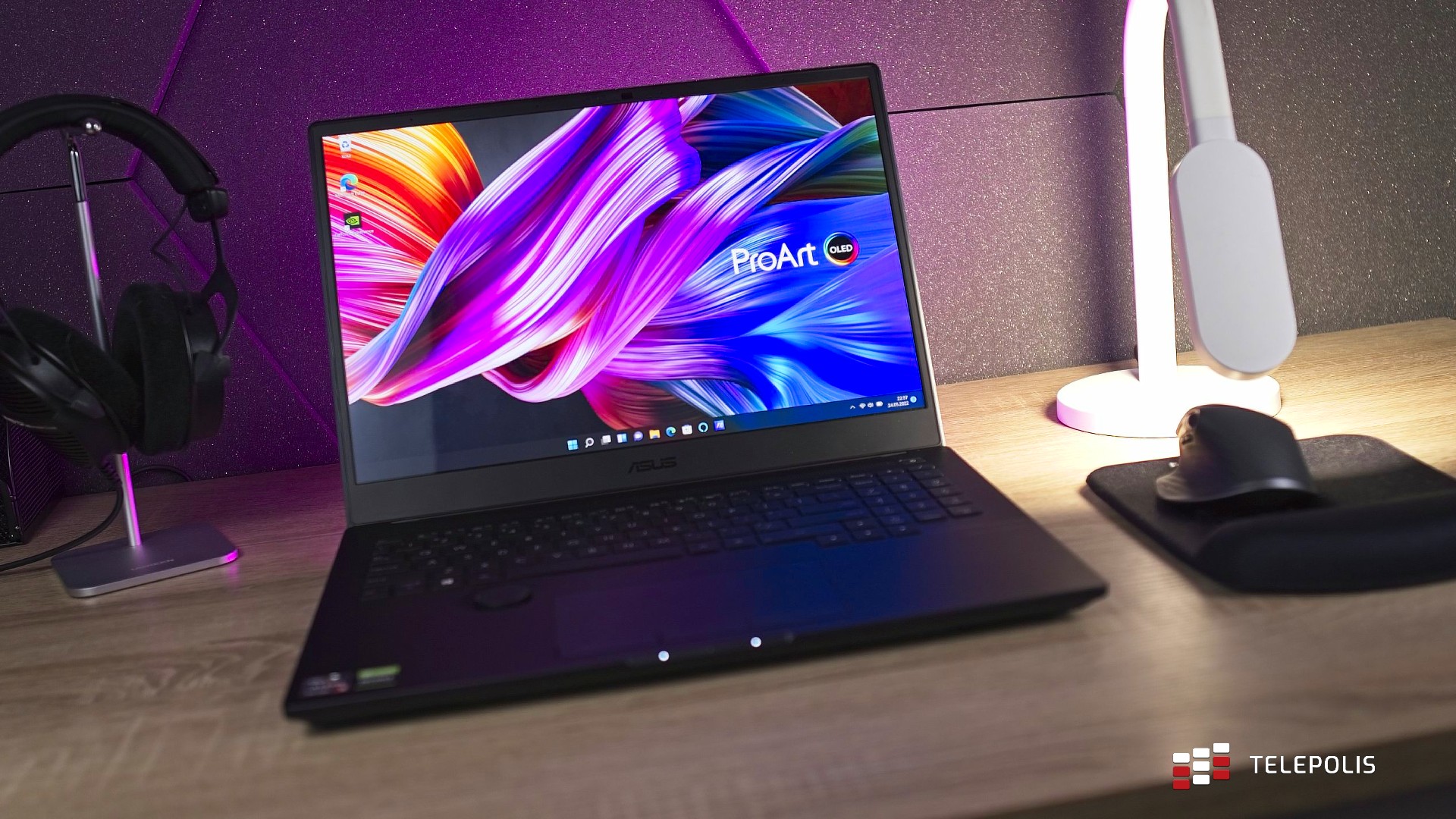 What are they characterized by? For example, on board the model ASUS ProArt Studiobook 16 OLED we will find a top graphics card NVIDIA GeForce RTX 3070 and processor AMD Ryzen 9 5900HX, so components that no gaming laptop would be ashamed of. But this isn't a gaming laptop – it's so much more than that.
After all, in what gaming laptop can we find OLED screen with 4K resolution? Virtually none. However, it is something that is of enormous importance when working with multimedia. Such a screen offers much better color reproduction and image settings than traditional IPS or VA arrays. Additionally, the panel of the Studiobook 16 OLED model has Aspect ratio 16:10which may or may not be suitable for gaming or consuming multimedia, but they are great for the job.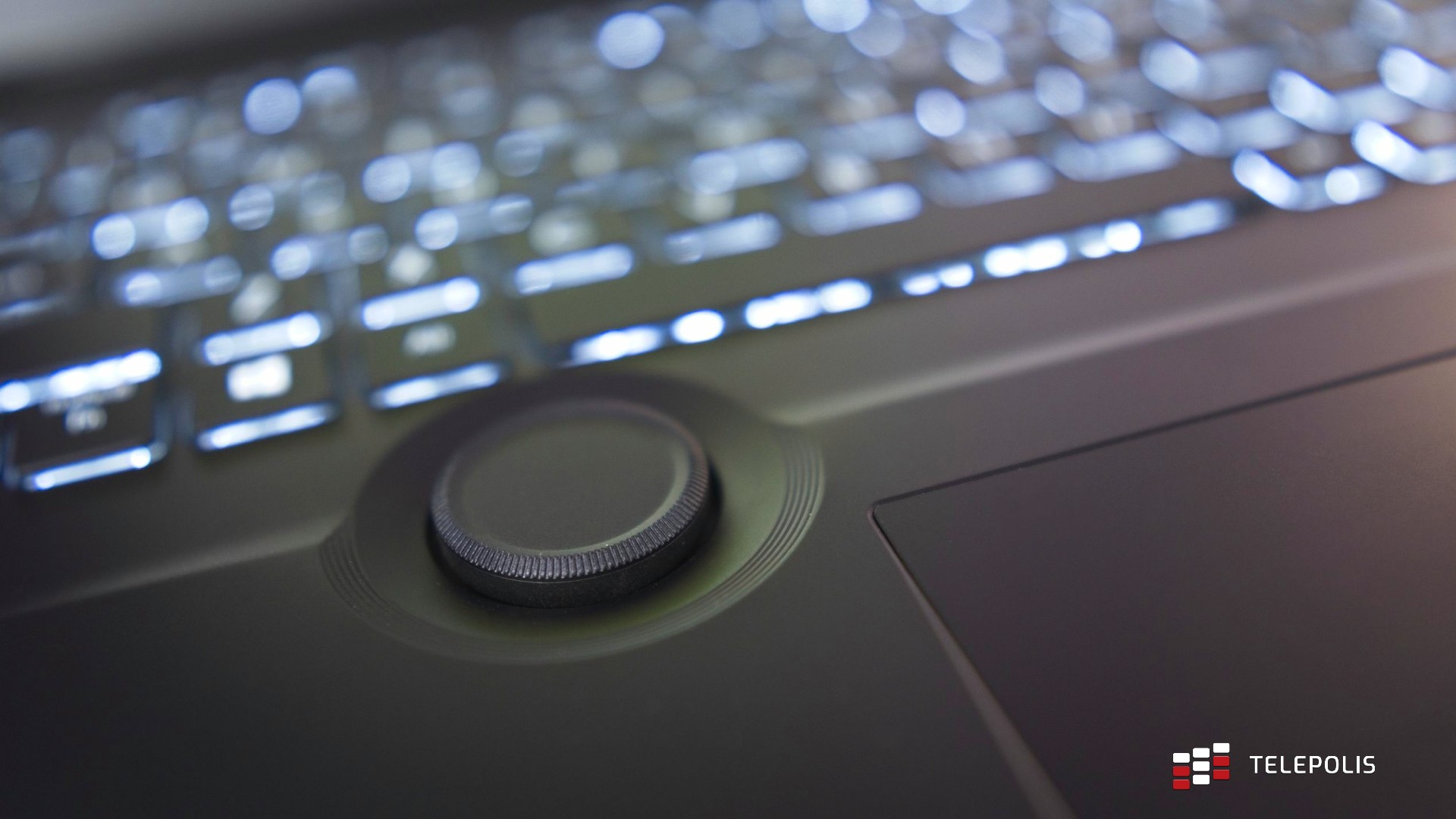 Convenience for creators, we can find much more here: a rich set of ports with full-size USB connectors and a plug SD Express 7.0touchpad with stylus support, customizable keys etc. The icing on the cake is ASUS dialwhich we can use for precise control, among others in applications of the Adobe suite.
Graphics card – the basis of creative work
The ASUS ProArt Studiobook 16 OLED is therefore the perfect tool for creators. But these kinds of laptops wouldn't be on the market without the technology behind them. Here, the solutions that have been in place for a long time deserve special attention. Nvidia.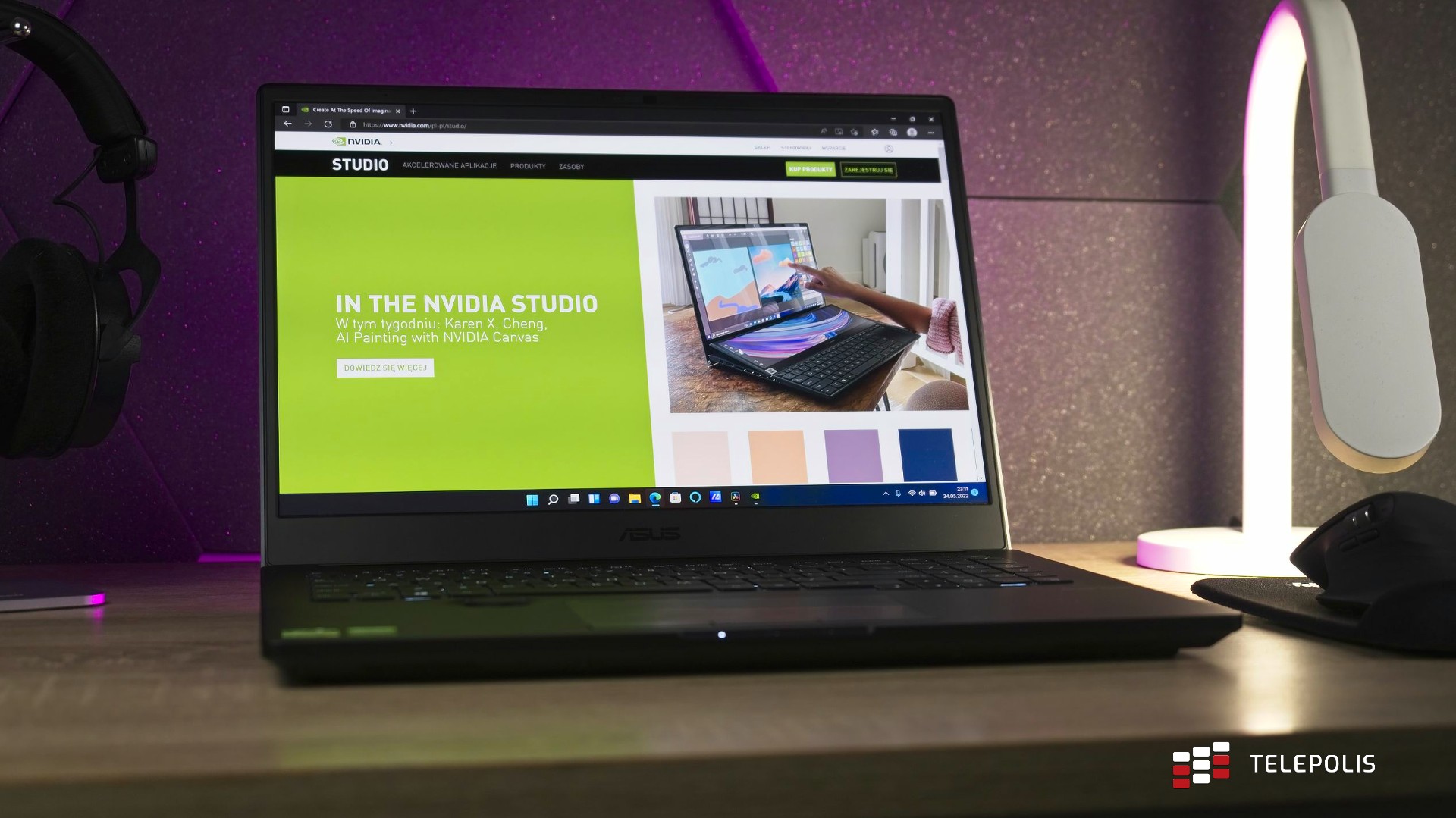 Because I don't know if you know this, but nowadays an efficient graphics card is basically the basis of any computer for creative tasks. To see this, let's take a wallpaper export of the video file into Adobe Premiere Pro and a powerful computer with an Intel Core i9-12800HK processor. When it comes to laptops, it's hard to find a more powerful machine these days. And even if we want to use only the built-in graphics layout, exporting such sample material will take more than 20 minutes (respecting NVIDIA data).
And what will happen if we introduce in the layout GeForce RTX 3080Ti? We will cut this time in half: only 10 minutes away. A huge difference, right? And we are only talking about export time. Higher acceleration will bring us a number of additional benefits, perhaps even more important from the point of view of daily work: better responsiveness, no need to create proxy files, faster preview generation and more stable computer operation.
And we don't need the flagship RTX 3080 Ti-class chip right away. In case of GeForce RTX 3060 the time to export our example video is only suddenly about 13 minutes. For comparison, this is a similar result to that obtained by the MacBook Pro with the Apple M1 Max chip.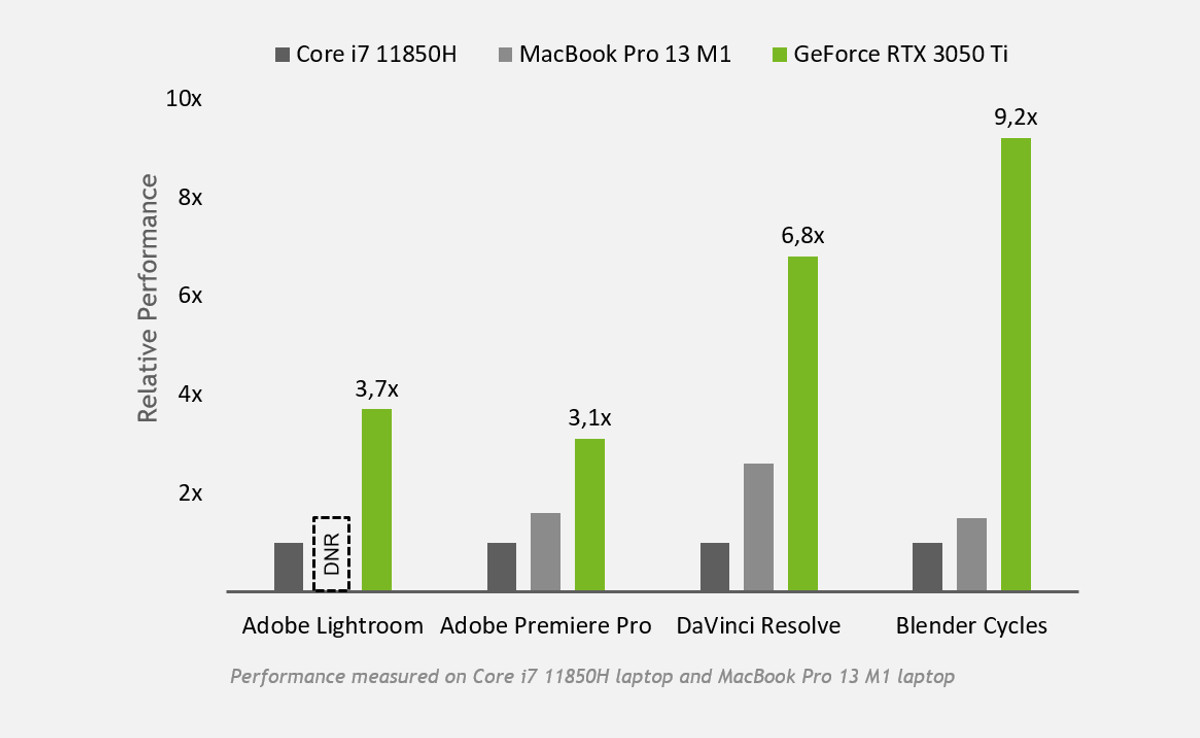 Of course, we will feel the differences not only in video editing, but also in other solutions related to multimedia and image processing: during photo processing, vector graphic design or 3D rendering. Often, the jump in performance due to a powerful graphics card will be even greater than in the example above. In the Blender application, rendering a scene can even be several hundred percent faster than using only the built-in layout.
And it's not just about extra computing power. These are many years of work and implementation of proprietary solutions created precisely for this type of application. For example, NVIDIA engineers have long cooperated with developers of popular graphics applications on driver versions specially optimized for their systems. They are available as part of the initiative Nvidia Studio and guarantee better stability in typically creative applications.
Speaking of NVIDIA Studio, it should be mentioned that this is a campaign that reaches much wider. It is also a privileged platform bringing together professionals and companies operating in the creative industry, as well as a series of laptops prepared especially for their needs. We are talking about high-performance machines equipped with NVIDIA GeForce RTX cards and a number of solutions dedicated to creative work. Currently, there are over a dozen different laptops out there, including the previously mentioned ASUS ProArt Studiobook 16 Studio – and we're keeping our fingers crossed that over time the family will only grow.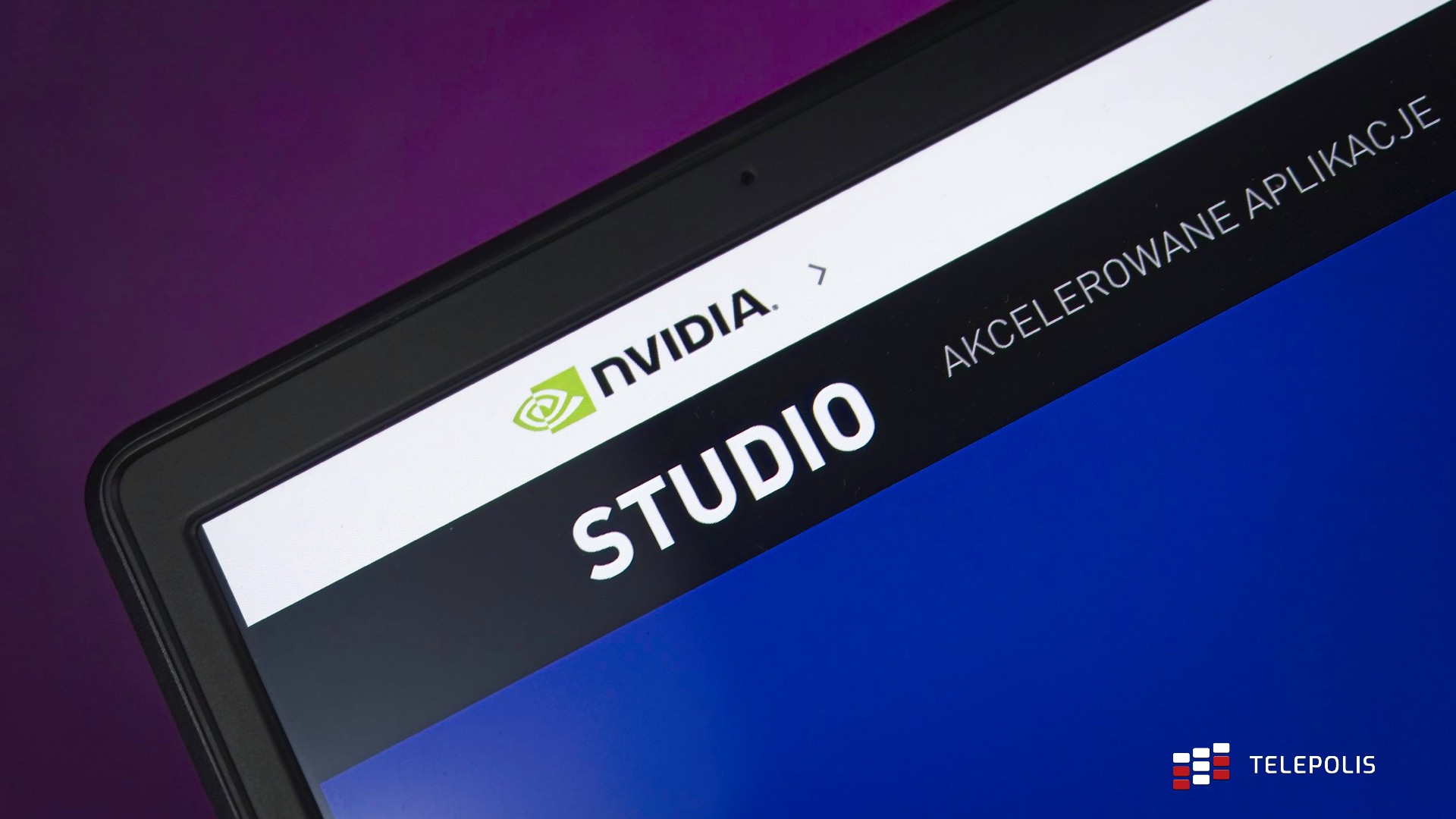 Well, because we're not just talking about computers. We talk about everything that can be created with their help: our favorite movies, games, the interior design of our new apartment, and maybe even an overpass, which we will soon be doing every day to get to work. In a way, even articles like the one you are reading right now. None of these things would have happened without the right tools – in this case, laptops with NVIDIA Studio solutions.
The article was written in collaboration with ASUS and NVIDIA.
Photo source: own, NVIDIA
Text source: Own
Scroll to the next entry