Panasonic Heating & Cooling Solutions introduces the latest addition to its advanced Aquarea range and introduces the Aquarea EcoFleX – innovative and flexible system for heating and cooling rooms, purifying air and domestic hot waterdesigned for a greener future.
2 in 1 solution – heat pump and pollution inhibition technology
Based on advanced proprietary heat pump systems and many years of experience, Panasonic has developed a durable and efficient Aquarea EcoFleX system, providing a 2-in-1 solution by combining the air duct unit using proprietary technology nanoe™ X and the Aquarea air/water heat pump.
The hybrid heat recovery system provides energy efficient heating, cooling, air and domestic hot water.
The heat pump uses a unique technology to drive its systems – it offers heat recovery for domestic hot water with simultaneous air conditioning operation, simultaneous heating of the air and water system and uninterrupted heating in defrost mode. All with exceptional performance and energy savings, with very low CO emissions2.
Panasonic's Aquarea EcoFleX provides cold or hot air through the duct unit and hot water for central heating and DHW
The 7.1 kW adaptive duct unit with nanoe ™ X mark 2 generator allows vertical and horizontal installation. It is characterized by silent operation [do 22 dB(A)] and a compact housing with a height of only 250 mm, as well as an integrated drain pump.
The Aquarea EcoFleX indoor unit – small in size 600mm x 598mm – fits perfectly into any kitchen, utility room or utility room in the home
Innovative nanoe™ X technology
Panasonic's nanoe™ X technology is the perfect solution for any environment – it uses hydroxyl radicals which inhibit the development of five kinds of pollutantsincluding bacteria and viruses, allergens, molds, certain hazardous substances and unpleasant odors.
This inspired by natural origin, the process improves indoor air quality 24 hours a day7 days a week, and makes the space more pleasant to live in.
Aquarea EcoFleX – a solution that fits into any space
An indoor unit with small dimensions of 600mm x 598mm fits perfectly into any kitchen, utility room or laundry room in the house. It has a built-in 185 liter water tank, which ensures plenty of hot water at home.
Panasonic's unique U-Vacua technology
Using Panasonic's innovative U-Vacua insulation technology, the high performance vacuum insulation panel has very low thermal conductivity while maintaining a slim design.
The impressive performance of U-Vacua allows you to save space while increasing energy efficiency, thanks to which energy losses during heat transfer are minimal.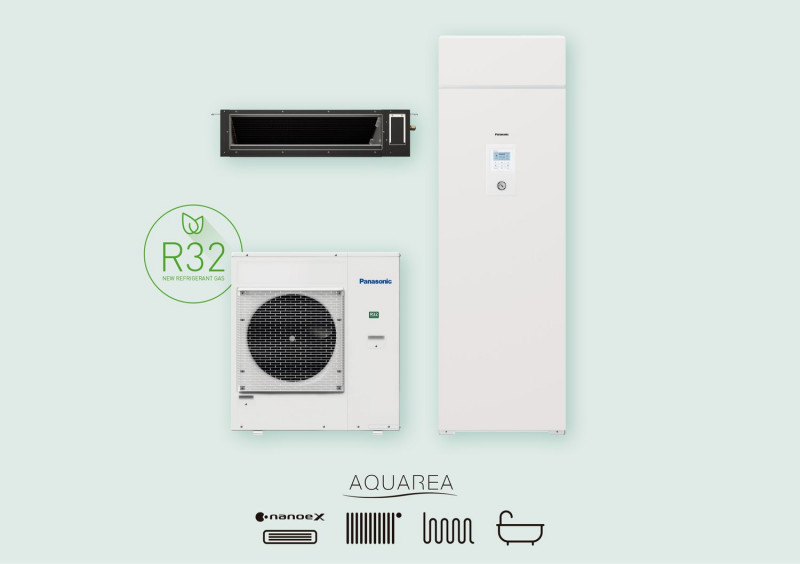 The main advantage of Aquarea EcoFleX is the versatility of system functions – it is a single system for air conditioning, heating and domestic hot water preparation.
Smart comfort – simple maintenance and installation
Panasonic also makes sure the Aquarea EcoFleX is there easy to maintain – with easy access to the hydraulic parts thanks to the simple door opening mechanism. The device also has improved water filterwhich provides excellent particle removal performance and allows for less frequent filter cleaning and maintenance.
The Aquarea EcoFleX comes standard with a Wi-Fi module that allows you to intelligently control and monitor your energy consumption. The kit includes Wi-Fi adapters for immediate connectivity with the Panasonic Comfort Cloud app.
The device can also be connected to the Aquarea Service Cloud, which allows installers and service partners to take care of heat pumps remotely their clients.
The versatile Aquarea EcoFleX system
The main advantage of Aquarea EcoFleX is versatile functions system – this is a system for air conditioning, heating and the preparation of domestic hot water.
The solution combines cooling with ducted air conditioning with simultaneous recovery of waste heat for the production of domestic hot water. In addition, the functionality of the water heater is maintained.
Aquarea EcoFleX a small dimensions – the outdoor unit occupies a small area and the indoor unit is the size of a standard household appliance.
The system includes nanoe ™ X air purification technologies and the possibility of controlling the device in the cloud (heating and air conditioning), as well as the unique option of remote service and monitoring of the operation of the air pump. heat Aquarea Service Cloud.
Source and photos: Panasonic