"FANTASTYKA2022 – East vs West" is a project by Zagłębie Mediateka lasting more than a week, addressed to fans of fantasy, comics, the interpenetration of Eastern and Western cultures, as well as all people who just want to start their adventure with these fascinating questions.
The program of the project included not only extremely interesting meetings with authors, but also a concert, a virtual reality zone, thematic lectures, an RPG demonstration session, contests – literary and artistic, a board game and screenings of films for children and adults. Admission to all events is free. We are already starting on June 3, 2022!
What has been prepared for the event?
Among other things, participants will have the opportunity to listen to a conversation with the writer Paweł Majka – about his work and how he put Poland on the map of the Metro 2033 universe. They will also be able to attend an RPG broadcast session, during which they will have a real impact on scenic events. The group Gaijin Blues, meanwhile, will blur the musical boundaries between East and West during their performance. Krzysztof "Prosiak" Owedyk will also be brought in to the investigations and he will talk about his comic book work. For those eager for knowledge, two lectures have been prepared, one on how the Japanese adapt Western culture to their use, and the other on the differences between the graphic arts of East and West, or more precisely, between manga and European comics.
The opportunity to move to truly fantastic lands will be offered by the VR (virtual reality) area and two film screenings, during which adults will be invited to a very sandy planet, and children accompanied by a brave warrior will go to the search for the last representative of the mythical genre. The board space also deserves special attention, that is to say a few hours with good board games, surrounded by fans ready to explain the intricacies of the rules and help choose the right game. Two competitions have been prepared for people with a creative flair. For the older ones – a literary competition whose leitmotif is to combine the cultures of the East and the West. For the youngest – an art competition for illustrations from the Dragon Encyclopedia (a mini-exhibition of works will be presented in the world of science and fantasy from Zagłębie Mediateka).
FANTASTIC 2022 – program:
Author's meeting with Krzysztof "Prosiak" Owedyek – cartoonist, creator of comics, leader of Urłałcja
Moderator: Karol Kućmierz
Monday, June 6, 2022 at 6:00 p.m.
Zagłębie Mediateka Auditorium, ul. Koscielna 11
Conference "Variously seen – on graphic art from East and West" – How does comics differ from manga? Which differences are less obvious than it seems at first glance?
Moderator: Paweł Ćwikliński
Tuesday, June 7, 2022 at 11 a.m.
Zagłębie Mediateka Auditorium, ul. Koscielna 11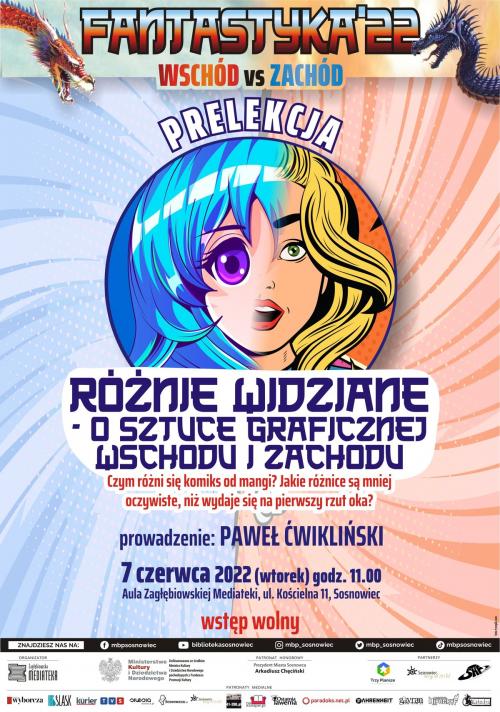 "Japanizing Ray" – a lecture on how the Japanese adapt Western culture
Directed by Patryk Maciocha
Tuesday, June 7, 2022 at 5:00 p.m.
Zagłębie Mediateka Auditorium, ul. Koscielna 11
VR Zone – the ability to use VR glasses and move to fantastic virtual lands
Hosted by: VR-One
Tuesday 7 June 2022 at 11.00-17.00
Pasaż in front of the Aula Zagłębiowska Mediateka, ul. Koscielna 11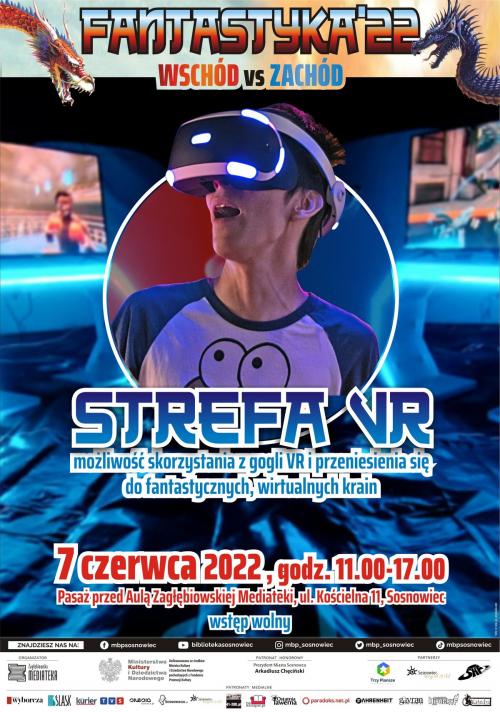 Screening of a film adaptation of Frank Herbert's most famous work (directed by Denis Villeneuve, produced in 2021)
Thursday, June 9, 2022 at 6:00 p.m.
Zagłębie Mediateka Auditorium, ul. Koscielna 11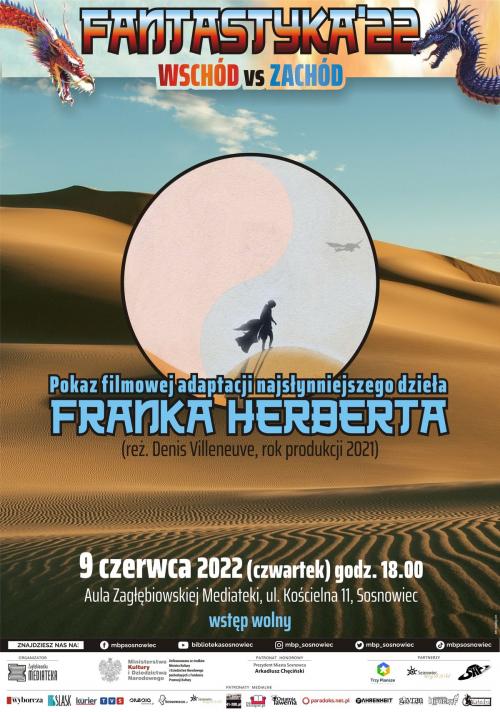 Fantastic family film about a brave warrior who – to stop the approaching evil – must find the last representative of the lost race (directed by Don Hall and Carlos López Estrada, produced in 2021)
Saturday June 11, 2022 at. 11:00
Zagłębie Mediateka Auditorium, ul. Koscielna 11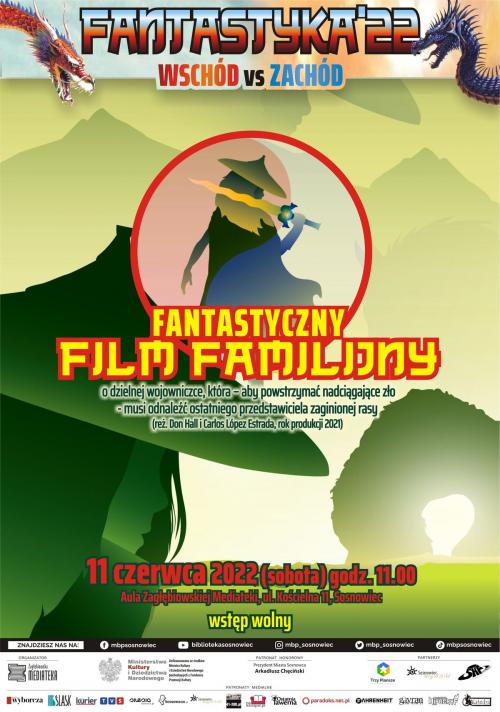 Board games – discussion of the advantages and rules of the selected games, example games, help in choosing the games best suited to the preferences of the participants
Organized by: Association Trzy Plansze
Saturday June 11, 2022 at. 9.00-14.30
Educational Hall of Zagłębie Mediateka, ul. Koscielna 11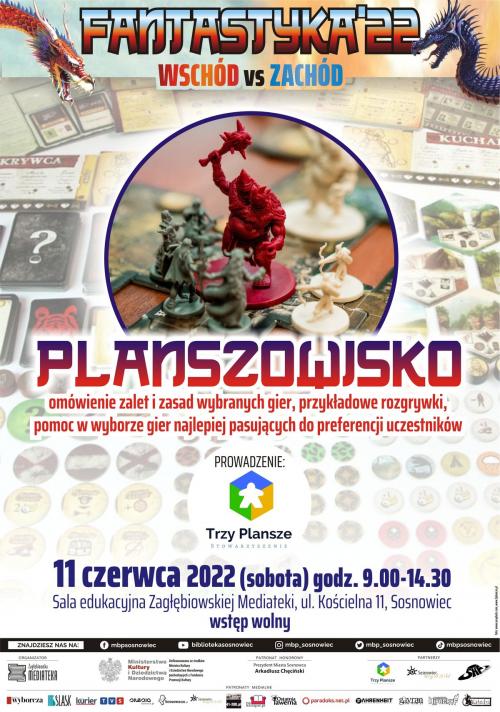 "East and West" – a literary competition for a short story combining elements of culture and pop culture from East and West
May 15 – June 5, 2022
Rules available at: www.biblioteka.sosnowiec.pl
"The Dragon Encyclopedia" – a children's art contest held at the station in the world of science and fantasy in Zagłębie Mediateka, ul. Koscielna 11