The research carried out by the IPC Institute on behalf of the Evry1 group focuses on the perception of virtual reality by adult Poles and the propensity to buy digital products that can only be used in the virtual world. 1090 people took part in the study conducted according to the CAWI method.
VR is a multimedia creation of a computer, three-dimensional vision of objects, space and events. This technology draws on both the fictional world and the real world, giving viewers the ability to interact with them. To immerse yourself in virtual reality is to convince our brain that what we are experiencing is real. Meanwhile, one in ten respondents say they don't know what virtual reality is.
Pensioners are scared, young people focus on entertainment
The popularization of home-use devices using VR technology has greatly increased the number of people who have the opportunity to test it in practice. However, it still raises many concerns. 30 percent of respondents perceive virtual reality primarily as a threat to interpersonal relationships in the real world. In the group of retirees, this value rises to 41%. The world of online games, but also virtual building plots, network relationships with people/avatars is something far away and dangerous for many people.
At the other extreme, there are the enthusiasts. Among respondents, virtual reality is perceived by 27% of respondents as an opportunity for new experiences and transfer of entertainment to a higher level. people. This percentage is even higher in the younger age groups (18-34) and among men.
Andrzej Rabsztyn, Managing Partner at hyperCREW, points out: "Among the VR enthusiasts, there is mainly a group of gamers. Young people already spend their free time with friends, for example, playing "League of Legends", which works in a similar way. We choose the character (already imposed by the game), we connect to Discord and we play, while chatting live with friends. For this group, online games, including those based on virtual reality, are an important aspect of both entertainment and relationship building, and the virtual world is a really important place."
Moderately Addictive Reality
The danger of becoming addicted to VR technology is noticed by 17 percent. respondents, with this percentage increasing among respondents from small towns and with a primary education.
Recognizing and understanding the fears and motivations related to virtual reality among various social groups becomes even more important as part of intensive work on the development of the metaverse. For many social media users, this space can become an alternative to everyday life and a chance to create a version of yourself without the many real-world limitations, such as distance in miles, outward appearance, or account balance.
Amid ongoing discussions about the value of NFT and the change brought by non-tradable tokens, the study shows that Poles are reluctant to spend real money online. Nearly half of respondents say "definitely no" to the question: "Would you buy a digital product that can only be used in the virtual world?".
At the same time, only 16 percent. of respondents indicate that for them virtual reality is above all the possibility of creating an image by creating their own avatars, by designing the environment, by showing their uniqueness.
The answers of the interviewees confirm that in Poland the market for virtual goods, clothing and accessories for game characters is still rather entertainment for enthusiasts and a means of expressing their status by the few.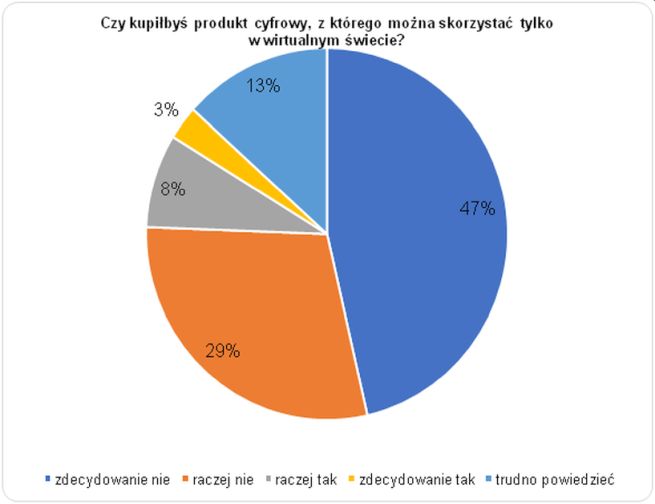 Research conducted by the IPC Institute, CAWI research on a national sample of N=1090 people. Amounts selected according to the representation in the population of Poles aged 18 and over for gender, age and size of place of residence.